KOA200-3

I/N: 0229079
35mm Aggressive Tooth Plunge Cut Multi-Tool Blade Set
Make fast plunge cuts into timber with the Kango 35mm Aggressive Tooth Plunge Cut Multi-Tool Blade Set. This set includes three 35mm plunge cut blades with a maximum cutting depth of 51mm.

The tooth design provides aggressive and ultra-fast cutting speeds for timber and is also suitable for...
Read More
Key Features
Set includes: 3 x 35mm Multi-Tool Blades

Fits all OIS multi-tools

Suitable for cutting timber, plastic and plasterboard

Made in the USA with high-grade engineering and materials
WHERE TO BUY
This page is for product information only and item/s may be unavailable for purchase, contact your local Bunnings store for availability/price.
35mm Aggressive Tooth Plunge Cut Multi-Tool Blade Setexpand_more
Set includes: 3 x 35mm Multi-Tool Blades
Fits all OIS multi-tools
Suitable for cutting timber, plastic and plasterboard
Made in the USA with high-grade engineering and materials
SPECIFICATIONS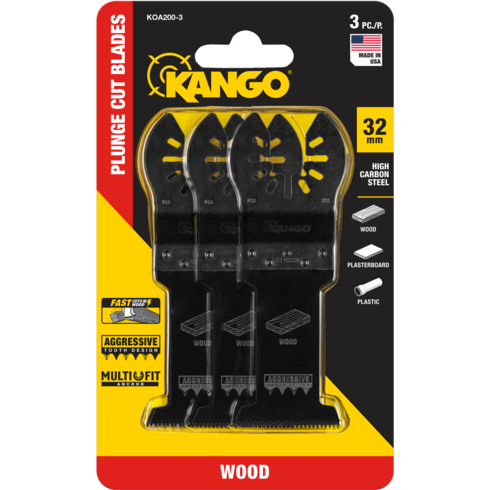 Weight

0.08 kg

Packaging (mm)

171.00 x 95.00 x 18.00