KAHCRBPD

I/N: 0354589
Adjustable Hole Cutter Replacement Blades And Pilot Bit
Maintain the cutting performance of your Adjustable Hole Cutter (KAHC51178) with the Kango Adjustable Hole Cutter Replacement Blades and Pilot Bit. The Replacement Cutter Blades are constructed from high carbon steel suitable for cutting plasterboard and mineral fibre ceiling tiles.

The Pilot...
Read More
Key Features
Replacement kit for Adjustable Hole Cutter (KAHC51178)

Hex key included for easy installation

High carbon steel blades

Titanium coated pilot bit
WHERE TO BUY
This page is for product information only and item/s may be unavailable for purchase, contact your local Bunnings store for availability/price.
Adjustable Hole Cutter Replacement Blades And Pilot Bitexpand_more
Replacement kit for Adjustable Hole Cutter (KAHC51178)
Replacement kit for Adjustable Hole Cutter (KAHC51178)
Hex key included for easy installation
Hex key included for easy installation
High carbon steel blades
High carbon steel blades
Titanium coated pilot bit
Titanium coated pilot bit
SPECIFICATIONS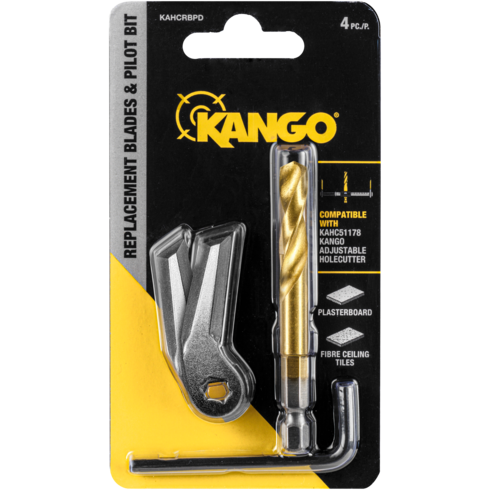 Product Dimensions (L x W x H)

134 x 24 x 7
What's Included
Adjustable Hole Cutter Blades
Pilot Bit
Hex Key