KRB15S

I/N: 0466345
15-Piece Reciprocating Saw Blade Set
Equip your recip saw to cut timber, metal and plastic with the Kango 15-Piece Reciprocating Saw Blade Set. This great value Set includes 5 x Wood Reciprocating Saw Blades and 8 x Metal Reciprocating Saw Blades, 2 x Multi-Material Reciprocating Saw Blades and a Carry Case.

Cut installed metal...
Read More
Key Features
Variety Set

9" Blades

Case

Made in USA
WHERE TO BUY
This page is for product information only and item/s may be unavailable for purchase, contact your local Bunnings store for availability/price.
15-Piece Reciprocating Saw Blade Setexpand_more
Variety Set
Set Includes Both Demo and Flex Blades
9" Blades
Provides extra cutting capability for thicker material
Case
Convenient storage case included
Made in USA
Manfucatured in the United States
SPECIFICATIONS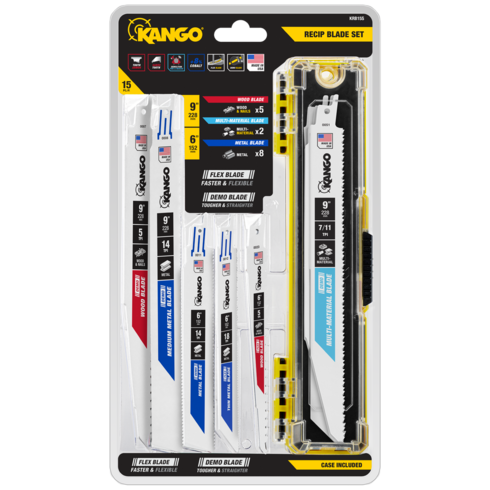 Weight

0.45 kg

Product Dimension

300 x 138 x 42 mm
What's Included
KANGO 9" WOOD CHOPPER 5TPI
KANGO 9" METAL RAZOR 18TPI
KANGO 9" ALL PURPOSE 7 11TPI DEMOLITION
KANGO 6" METAL RAZOR 18TPI
KANGO 6" WOOD CHOPPER 5TPI
KANGO 6" METAL RAZOR 14TPI