KDB230S

I/N: 0417309
230mm Segmented Diamond Blade
Use the Kango 230mm Segmented Diamond Blade with an angle grinder to cut and notch concrete, cement, brick and asphalt. Its segmented cutting edge is engineered to dissipate heat and reduce friction, making it great for dry cutting.

The Blade is made from a high diamond concentrate for maximised...
Read More
Key Features
Hot press sintering

Suitable for wet and dry cutting with an angle grinder

Segmented blade

High diamond concentrate
WHERE TO BUY
This page is for product information only and item/s may be unavailable for purchase, contact your local Bunnings store for availability/price.
230mm Segmented Diamond Bladeexpand_more
Hot press sintering
Hot press sintering
Suitable for wet and dry cutting with an angle grinder
Suitable for wet and dry cutting with an angle grinder
Segmented blade
Segmented blade
High diamond concentrate
High diamond concentrate
SPECIFICATIONS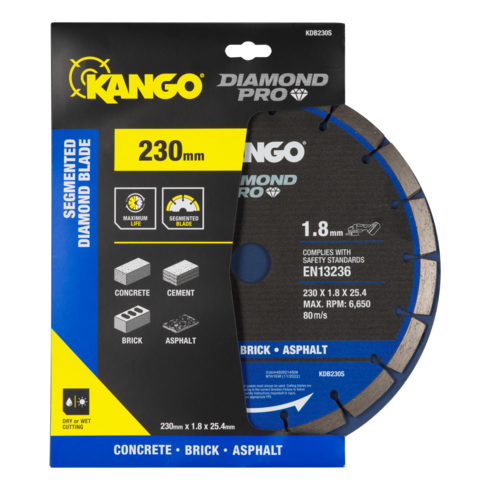 Weight (kg)

0.58kg

Packaging (mm)

280 x 245 x 6mm

Product Dimensions (mm)

230 x 230 x 6mm