KCSPPSS

I/N: 0354363
250mm SDS Plus Self-Sharpening Pointed Chisel
Perform general demolition tasks on concrete and masonry with the Kango 250mm SDS Plus Self-Sharpening Pointed Chisel. The pointed design of this chisel has been purpose-built for demolition tasks such as breaking off large chunks of material.

The unique design of this Pointed Chisel also...
Read More
Key Features
World-class alloy for heavy-duty impact applications

Unique pointed self-sharpening design maximises life and performance

Reinforced edges maintain structural integrity, reducing breakages and fractures

Suitable for bricks, blocks and concrete

Only compatible with SDS Plus Rotary Hammer Drills
WHERE TO BUY
This page is for product information only and item/s may be unavailable for purchase, contact your local Bunnings store for availability/price.
250mm SDS Plus Self-Sharpening Pointed Chisel expand_more
World-class alloy for heavy-duty impact applications
World-class alloy for heavy-duty impact applications
Unique pointed self-sharpening design maximises life and performance
Unique pointed self-sharpening design maximises life and performance
Reinforced edges maintain structural integrity, reducing breakages and fractures
Reinforced edges maintain structural integrity, reducing breakages and fractures
Suitable for bricks, blocks and concrete
Suitable for bricks, blocks and concrete
Only compatible with SDS Plus Rotary Hammer Drills
Only compatible with SDS Plus Rotary Hammer Drills
SPECIFICATIONS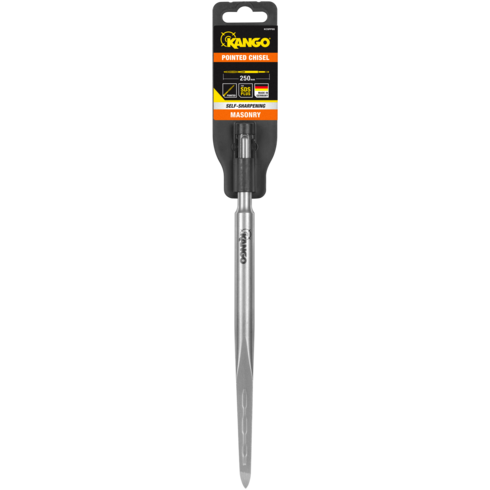 Product Dimensions (W x H x L)

1 X 46 X 250mm

Weight (kg)

0.38

Packaging Dimensions (W X H X L)

15 X 46 X 340mm