KCDB52

I/N: 0354485
5mm Cobalt Drill Bit
The Kango 5mm Cobalt Drill Bit is designed for an improved drilling performance into stainless steel and hard metals while still being suitable for wood and plastic. Its M35 5% cobalt blend has been formulated to withstand extreme levels of abrasion and heat.

The tip has four cutting chamfers...
Read More
Key Features
M35 5% Cobalt Blend

3 flat shank (≤4.5mm w.o 3)

Suitable for drilling into stainless steel, hard metal, wood and plastic

Four-cut design for maximum material contact and faster drill speeds

135° split point for more precision
WHERE TO BUY
This page is for product information only and item/s may be unavailable for purchase, contact your local Bunnings store for availability/price.
5mm Cobalt Drill Bitexpand_more
M35 5% Cobalt Blend
M35 5% Cobalt Blend
3 flat shank (≤4.5mm w.o 3)
3 flat shank (≤4.5mm w.o 3)
Suitable for drilling into stainless steel, hard metal, wood and plastic
Suitable for drilling into stainless steel, hard metal, wood and plastic
Four-cut design for maximum material contact and faster drill speeds
Four-cut design for maximum material contact and faster drill speeds
135° split point for more precision
135° split point for more precision
SPECIFICATIONS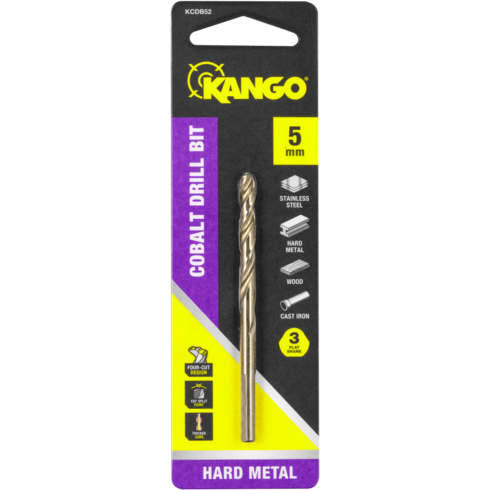 Packaging Dimensions

157mm x 47.6mm