KCSPFSRK

I/N: 0354374
SDS Plus Floor Scraping Chisel Replacement Kit
Repair your existing scraping chisel with the Kango SDS Plus Floor Scraping Chisel Replacement Kit. This Kit includes blades and fixings required to get your scraping chisel (KCSPFS100) back in original working order.

The low profile of the replacement blade is designed to provide maximum...
Read More
Key Features
Kit includes replacement blades and fixings required for installation

Manufactured from world-class alloy for maximum life

Suitable replacement blade for Kango (KCSPFS100) Floor Scraping Chisel

Low profile scraping plate
WHERE TO BUY
This page is for product information only and item/s may be unavailable for purchase, contact your local Bunnings store for availability/price.
SDS Plus Floor Scraping Chisel Replacement Kitexpand_more
Kit includes replacement blades and fixings required for installation
Kit includes replacement blades and fixings required for installation
Manufactured from world-class alloy for maximum life
Manufactured from world-class alloy for maximum life
Suitable replacement blade for Kango (KCSPFS100) Floor Scraping Chisel
Suitable replacement blade for Kango (KCSPFS100) Floor Scraping Chisel
Low profile scraping plate
Low profile scraping plate
SPECIFICATIONS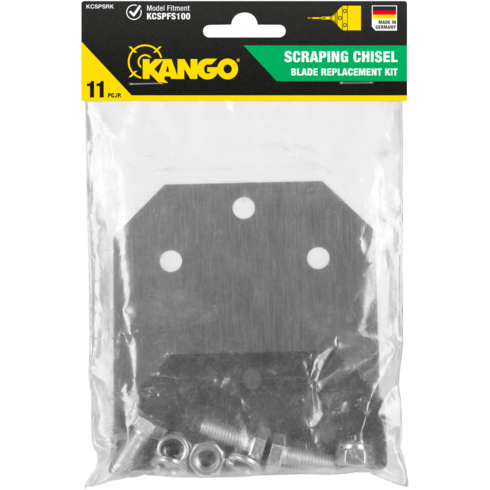 Product Dimensions (W x H x L)

100 X 15 X 250mm

Weight

0.42

Packaging Dimensions (W X H X L)

100 X 15 X 340mm
What's Included
Replacement Scraper Blade
Clamping Plate
M10 Bolts
Spring Washers
Lock Nuts